Incorporate Precision Ag Into Your Classroom
Northeast Community College is proud to work with schools to incorporate precision ag into the classroom for junior high and high school students. Northeast provides the support, content, activities and resources to bring precision ag to life.
Precision agriculture is a method of farm management with a focus on intentional decision-making. We want to showcase this way of thinking to junior high and high school students and introduce them to a topic that is going to contribute to the future and progression of agriculture.
What we Offer
Lessons that you teach. These include PowerPoint presentations, notes and activities for different units. (See some options below)
We currently offer an introductory unit that covers an introduction to precision agriculture along with the fundamentals of precision ag.
A classroom visit from the Precision Ag Trainer for hands-on learning.
Follow-up visit from the Precision Ag Trainer to discuss careers in agriculture
Mobile classroom trailer for larger hands-on activities
Career day booths
County Fair and Field Day booth-activities for audiences of all ages
Professional development workshops for educators
Lesson Topics Include
The Fundamentals of Precision Agriculture
Variability
Data Gathering
Location, Location, Location
Units will be diving deeper into topics surrounding soil health, aerial imagery, drones, water quality, and more. Further expansion into topics such as horticulture are on the horizon!
Please contact Courtney Nelson, Precision Ag Trainer, to access additional curriculum or schedule a classroom visit.
(402) 844-7467
cnelson10@northeast.edu

Sign up for a Classroom Visit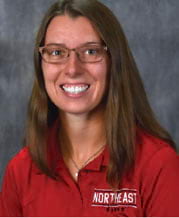 We want to support you by providing classroom activities and resources to bring precision agriculture to life. Content is currently being created, updated, and revised. Have an idea you would like to execute in your classroom, but you aren't sure how? Reach out and we will see what we can create together!
Lesson Plans and Activities
Download lessons that you teach in your classroom.
This library will continue to expand, so check back periodically.
We appreciate the support of the CHS Foundation in our endeavors to introduce students to precision agriculture. "The CHS Foundation, funded by charitable gifts from CHS Inc., is focused on developing a new generation of agriculture leaders for life-long success. Together, with our partners, we are igniting innovation and driving excellence in agricultural education, cultivating high-impact programs for rural youth, and accelerating potential for careers in agriculture. Learn more at chsfoundation.org"