Reaffirmation of Accreditation 2023
Northeast Community College is accredited by the Higher Learning Commission (HLC) and is on the Open Pathway which follows a ten-year cycle focused on quality assurance and institutional improvement. The institution is nearing completion of the ten-year cycle and is preparing for the comprehensive evaluation (and on-site visit) to occur October 23-24, 2023.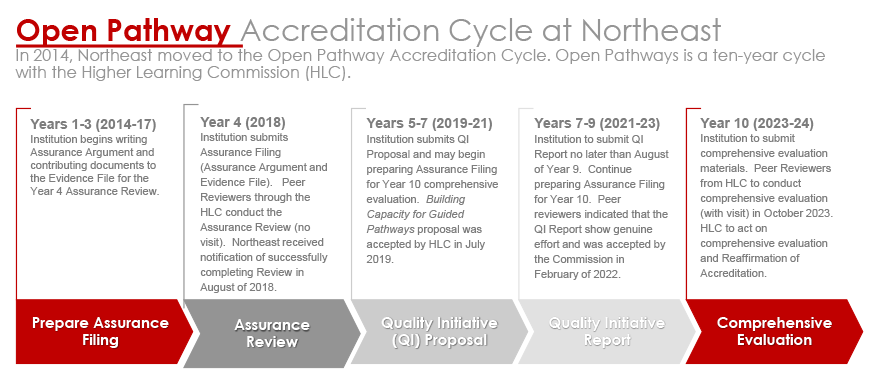 Be sure to visit this website frequently to stay informed and engaged in Northeast's Reaffirmation. Please visit the Northeast Accreditation page to learn more about general and program accreditation information at the college.
What is Reaffirmation?
Accredited institutions must provide evidence of meeting the Criteria for Accreditation and Federal Compliance Requirements to be reaffirmed of its accreditation status with HLC. The evaluation processes used by the Commission are called pathways. Northeast is on the Open Pathway ten-year cycle.
Criteria for Accreditation
Criteria 1. Mission
The institution's mission is clear and articulated publicly; it guides the institution's operations.
Criterion 2. Integrity: Ethical and Responsible Conduct
The institution acts with integrity; its conduct is ethical and responsible.
Criterion 3. Teaching and Learning: Quality, Resources, and Support
The institution provides quality education, wherever and however its offerings are delivered.
Criterion 4. Teaching and Learning: Evaluation and Improvement
The institution demonstrates responsibility for the quality of its educational programs, learning environments, and support services, and it evaluates their effectiveness for student learning through processes designed to promote continuous improvement.
Criterion 5. Institutional Effectiveness, Resources and Planning
The institution's resources, structures, and processes are sufficient to fulfill its mission, improve the quality of its educational offerings, and respond to future challenges and opportunities.
Federal Compliance Requirements
Assignment of Credits, Program Length, and Tuition
Institutional Mechanisms for Handling Student Complaints
Publication of Transfer Policies
Practices for Verification of Student Identity
Protection of Student Privacy
Publication of Student Outcome Data
Standing with State and Other Accreditors
Recruiting, Admissions, and Related Institutional Practices
Evaluation Process for Reaffirmation (Year 10):
Timeline
Spring 2022
Institutions with three or more off-campus additional locations are required to undergo a Multi-Location Visit every five years by the Higher Learning Commission (HLC). In April 2022, a visit was conducted by an HLC peer reviewer at the South Sioux City and West Point Extended Campuses. The purpose of the visit is to confirm the continuing effective oversight by the institution of its additional locations. The reviewer noted all areas of review were "adequate". The information and feedback received from this visit will be shared with the peer review team that visits in October 2023 who will be looking for improvements.
---
Fall 2022
A team of editors and writers at Northeast will compile a draft of the assurance argument and federal compliance filing.
Communications Team activities begin.
---
Spring 2023
Cabinet reviews draft of assurance argument and federal compliance filing. Revisions are made by writers/editors.
Communications Team activities continue.
Student Opinion Survey - this is an online survey of the institution's student body conducted two months prior to the on-site visit. The survey is intended to give students an opportunity to participate in the evaluation process, and to help identify questions for the peer reviewers to ask while on-site.
---
Summer 2023
Compile final draft of assurance argument and federal compliance filing
---
Fall 2023
Lock in assurance argument and federal compliance filing in HLC system
Mock Visit October 5-6.
HLC on-site visit to take place October 23-24
How Can I Learn More?
Higher Learning Commission Resources
Northeast Summaries/Resources